Los Diablos Pequenos welcomes you. We are a Chihuahua Breeder of quality Chihuahuas in Belgium for almost 10 years. Check out our site for information on our Chihuahua family, the adorable puppies and the photos.
The Chihuahua is a small and fragile but alert dog. These dogs are the world's smallest breed.  They are named after the Mexican state from which it was first exported.  Both, the short haired and long haired variety offer humor, comfort and companionship.  Their coats come in many colors from white to black/tan and many colors in between.  Grooming is minimal for the short coats and more frequently for the long coats.  These dogs weigh 1 to 3kgs and stand 15-23cm at the shoulders.
Find your perfect Chihuahua puppy or adult dog here. Our Chihuahuas are often Champion sired or from Champion bloodlines. They are all family raised with care for quality and love. All our dogs are health guaranteed and vet-checked. We can also help you with information on puppy selection and puppy care.
Have a look at this video made for us by Royal Canin - "The day of a small dog".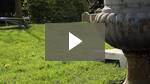 Enjoy our website!
Owner: Julie Vanvaerenbergh.
Breeder: Janssens.

Albanie is the sunshine in our house, she is always good-tempered.
She likes to run around and to play with the other Chihuahuas.
Albanie is a little doll and is very pride, a pride she earned well, since she is champion is following countries:
Belgium Champion
Dutch Champion
German Champion
VDH Champion
Luxembourg Champion
International Champion
Top Chihuahua 2004 & 2005
Brussels Winner 2004 & 2005
Amsterdam's Winner 2004 & 2005
Best Veteran Long Coat 2012 Bcc puppyparade (MCH. Albanie of mini mondo)
Julie with Ejani Los Diablos Pequenos
In 2000 our Chihuahua happiness started. It all began at a friend of mine. When I went playing there, I saw for the first time in my life a long-coat Chihuahua.

She had more long-coat Chihuahuas, but only one really paid my attention, a black one. I went home and told my folks what I saw and that I finally found the dog of my dreams. After insisting my folks and I went for a look at my friends' home and her Chihuahuas. Those people told us a lot about the Chihuahuas and gave us an address in Limburg (Belgium). After having arranged an appointment we went for a visit.